Optimized truck-loading solutions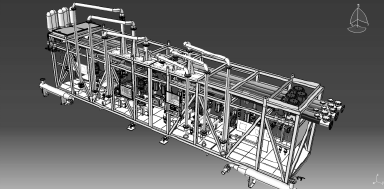 Distri has a long tradition of planning and implementing conceptualized solutions, where multiple suppliers in collaboration deliver more holistic solutions fitting well together. Our concepts take business requirements from generic customer needs and allow customer specific tailoring without significant additional cost. Customers benefit from lower cost, planning and schedule accuracy as well as from the fast ramp ups enabled by the concepts.
Distri experts help you plan, define and design the right solution for your Truck Loading Solutions to increase the efficiency of your Truck Loading Solution installation, safely and at optimized costs. Business value needs to be optimised together with operative and investment costs.
You need one responsible and experienced provider to achieve these goals across different technologies of Truck loading solutions. We provide you full variation of Truck Loading Solutions. We are able to execute your project with one point of contact principle for the whole project. Distri helps you to plan the full design and execution of your solution, looking at securing your process and optimizing your time. We can also manage the entire Terminal Loading Solution deployment for the customer. We are able to start from customer Feasibility study and execute the whole Truck Loading Solution Project as a "turn key project". Distri provides customer the option to define the best possible management combination.
This improves building efficiency and value while reducing downtime, safety/security risks, and costs. We have built Truck Loading Systems already 28 years. Strong experience in Truck Loading Solutions together with hazard environment and Artic Climat is daily bread for us.
Typical activities of Truck Loading Solutions are:
Technical Feasibility studies
Facility Assessments
Business case creation
Project scope definition
Design based on standards (pipeline, electricity, automation , working processes)
Purchasing process
Build and start up
Installation into terminal
Apply approvals from authorities
Provide Life time Service
More information